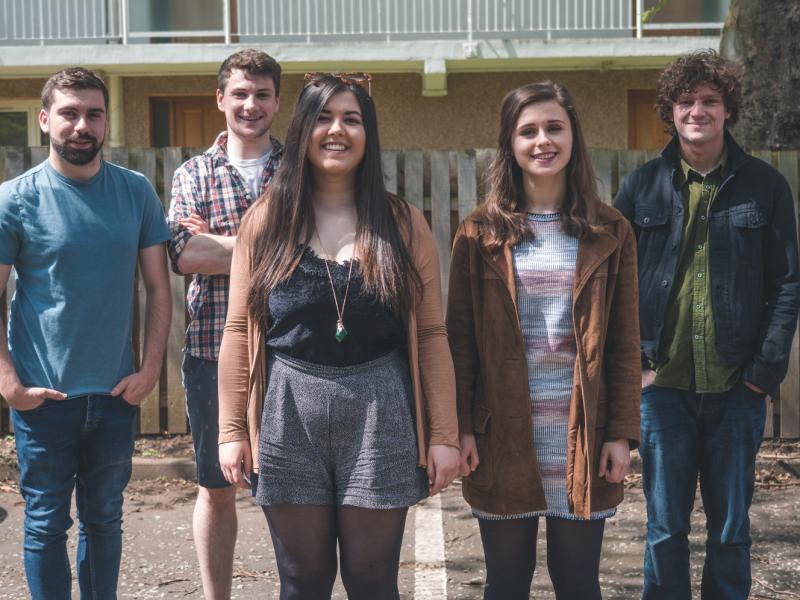 Eabhal met and began making music together on the Outer-Hebrides' Isle of Uist, taking their name from the iconic North Island hill.
Playing folk and traditional music from Scotland, Ireland, Asturias and further afield alongside self-penned tunes and Gaelic songs, they produce a melting pot of sound representative of their different backgrounds.
They won the 2018 "Battle of the Folk Bands" and were runners up for "Up and Coming" at the Scots Trad Music Awards 2018.
Their debut album "This is How the Ladies Dance" was released in January 2019.
Kaitlin Ross - Lead vocals
Megan MacDonald - Accordion, rhodes, backing vocals
Nicky Kirk - Guitar, backing vocals
Jamie MacDonald - Fiddles, backing vocals
Hamish Hepburn - Highland pipes, wooden flute, whistles, backing vocals
'Eabhal are one of Scotland's brightest up and coming bands that continue to evolve our music.' - Angus Lyon, Blazin' Fiddles
Ruach are Finn O'Neill (Banjo/Guitar), Kenn Clark (Guitar/Vocals), Euan Reid (Accordion) and Craig Dyke (Mandolin). They are an Aberdeen based band playing original and contemporary Scottish traditional music in energetic and vibrant arrangements.
Nicky Murray is an outstanding Scottish Singer/Songwriter, with coherent gentle strings, harmonies, sharing original songs and tunes. He aspires for expression and connection. He performs moving songs and there's no doubt his live sets will be come a very very fond memory for you. He's released 2 beautiful records, 'Plenty More Weeping' and 'Wintermore' and his band includes Chloe Rodgers, Chloe Bryce and Juiette Lemoine.