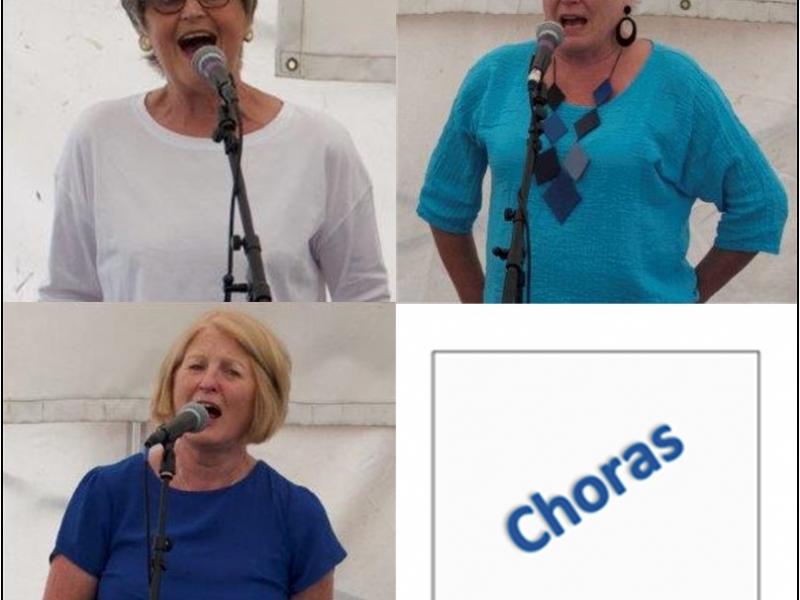 Harmony singing trio Choras is Aileen Carr, Janice Reavell and Barbara Dymock. Each is a much loved and respected traditional singer in her own right with many and varied musical collaborations behind her and a vast experience of performing. Whilst car-sharing on a trip to Yorkshire Traditional Song Weekend, pre-Covid, they enjoyed the sing-a-long journey so much, they decided to get together to rehearse. Plans were then thwarted by pandemic restrictions but, nothing daunted, they have Zoomed, FaceTimed and shared recorded material and now specialise in a cappella harmony arrangements of an eclectic mix of songs traditional and modern-ish.
Barbara Dymock
Barbara learned songs as a child from her grandparents, but made her first foray into performing aged 19 with the newly-formed Ceolbeg and a cappella trio Fair Game. After a long silent break to raise a family and pursue a medical career, she returned to sing with Rathlin, Fon a Bhord, Sinsheen and The Barbara Dymock Band and is currently in a duo with Chris Marra. She has 2 solo albums: Hilbert's Hotel and Leaf an' Thorn. She collaborated with Christine Kydd on the Sinsheen album LIFT and appeared on Malinky's 2019 album Handsel.
Janice Reavell
Singer and guitarist Janice was brought up in Aberdeen, and was influenced and taught by local source singers including Jeannie Robertson, Lizzie Higgins and Stanley Robertson. She began singing at Folk Clubs and Festivals in her early teens and travelled and recorded with bands such as Iolair, Lang Johnnie Moore and Highland Connection. She also has an interest in blues music and performed for many years with local blues band: Off the Tracks. She is Scottish Culture & Tradition ballad tutor and choir leader, a Feis Rois harmony tutor and workshop leader, and singing group tutor at the Elphinstone institute.
Aileen Carr
Born in Coupar Angus, and moving to Blairgowrie in the 60's, Aileen originally started singing with fiddler Meg Murdoch's concert party. It was an exciting time for folk music and hearing the likes of Belle Stewart at the 1967 Blairgowrie Folk Festival was a defining moment for her musically. and sparked her abiding interest in the great 'classical' story ballads, as well as starting the development of her eclectic repertoire. In the 70's and 80's she became a regular solo unaccompanied singer at clubs and festivals, joined the bands Ceolbeg and Lang Jonny More, before going on to form the popular a cappella group Palaver with Gordeanna McCulloch, Maureen Jelks and Chris Miles. Over the years Aileen has tutored at Stirling University Summer School as well as at various festivals, TMSA workshops and community singing groups. She was also one of the singers who performed at the Edinburgh International Festival's 1995 celebration of The Greig Duncan Folksong Collection